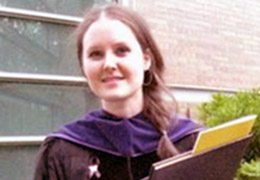 I am a proud 2003 graduate of the Orcas Island School District. I am currently working as a law clerk at the Washington State Court of Appeals. In high school I took several Advanced Placement (AP) courses supported by OIEF.
The AP courses challenged me to work harder than I ever had before. I learned how to read critically, how to write persuasively, and gained confidence in myself and in my abilities. I have no doubt that the skills I learned in AP courses helped me to succeed in college and in law school.
I graduated from the University of Washington 2013. I currently work as a law clerk at the State Court of Appeals in Seattle.
– Kathleen Kline