Farm to Cafeteria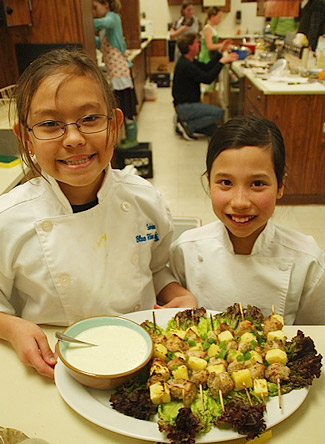 The Orcas Island Farm to Cafeteria Program embodies all of the five components necessary to facilitate a complete and effective Farm to School Program:
School
Garden
Cafeteria
Farms
Community
Our school meals are now entirely scratch-cooked and almost always include some fresh local produce, fruits and meats.
It took a while, but thanks to the Orcas Island Education Foundation, our school administration, our island farms and our supportive community, it is now a wonderful reality.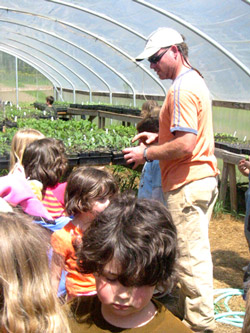 Like most Farm to School Programs, the Orcas Island Public School Farm to Cafeteria Program basically started with a garden planted by a teacher in 1998. In 2010, its responsibilities were assumed by the Farm to Cafeteria Program.
A fresh salad bar was started in our cafeteria in 2005, thanks to the determination of a then 10-year-old student, Makala Forster. In 2008, real changes began as it was becoming clear that the farm to school movement was here to stay, and the return of scratch-cooking "real" food in our school meals had to be embraced.
FARM TO CLASSROOM PROJECT

In 2009, OIEF funded the Farm to Classroom Project for grades K-4 where one hour a week is set aside for each grade to spend in a class learning about food: where it comes from, what it does for their bodies, how to cook it, eat it and understand it.
When weather allows, most or all of students' class time is spent in the school garden that has now been expanded to about 8,000 square feet and is rapidly becoming a full-fledged outdoor classroom. The Farm to Classroom Project expanded to include grades 5 and 6 in 2012, and in 2014 grew to include grades 7 and 8.
Visit the Farm to Cafeteria website for information on all of our events, the garden, the classroom and all things F2C!
To support the F2C Program, please click here to donate.