Apply for an OIEF Grant
We encourage anyone to apply for an OIEF grant in a desire to support our public schools. Staff, parents and community members are all welcome to apply. Be sure to download the Grant Proposal Form (PDF) from this page. It will need to accompany your application.
A couple of notes about the application process.
There are two application periods during which you can submit your grant proposal.  While we may make an exception outside of these dates, please apply within these defined periods:
June 1 through August 1 for grants awarded in the Fall.
October 1 through November 1 for grants awarded in the Winter/Spring.
You will need to get signatures from both 1)  the Administrator most directly involved with the program of your grant, as well as 2) the signature of the Business Manager. This is necessary so that the district is completely aware of possible outside funding coming into the schools from an outside source.
ALL grants must be returned to the Administrator who has signed the grant.  That person will submit the grant on your behalf.  If you are a parent, student, community member — contact Eric Webb, Superintendent, to find out who would be the most appropriate Administrator to whom you should submit.  No grant may be submitted directly to OIEF.
The rest of the grant proposal is spelled out on the Grant Proposal Form available for download on this page.  If you have any questions, please email us at:  info@oief.org
Thanks so much!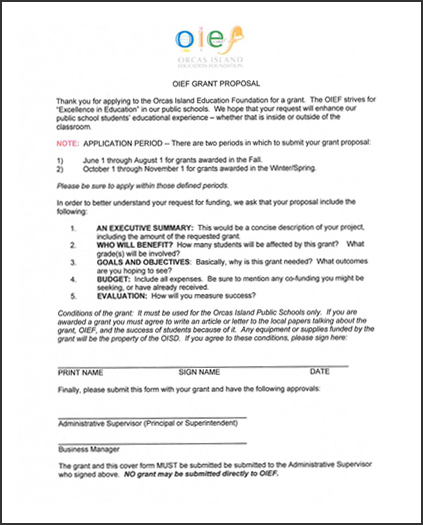 Save
Save
Save